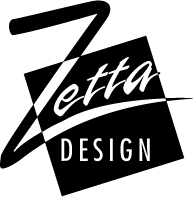 Lynette Neidhardt started Zetta Design after a four year apprenticeship in typography, several years working for advertising firms and a commercial print shop.
I was fortunate to have learned the trade of printing and typography by spending four years in the Typographical Union apprenticeship program at MacKenzie-Harris, one of the last hot metal shops in San Francisco.
MacKenzie-Harris had a full spectrum of old and new technology. I observed hot metal printing from the melting of pigs of lead to making hand set type that shipped all over the world. Watching the fine art of hand setting taught me a great deal about the true beauty of kerned type. Phrases such as "Getting the Lead Out" or "Watch your P's and Q's" took on a whole new meaning.
MacKenzie-Harris also ran functioning monotype and linotype machines, which brought bus loads of tourists and school children through the shop weekly to see how type created the written word for centuries. I worked in the cold type computer room where 13 magazines were created, including Mother Jones, Rolling Stone, and Focus Magazine.
After my apprenticeship I went to UC Berkeley night school and received a Certificate in Graphic Design while working throughout the industry to learn as much as I could about the printed form.
The most valuable lessons were learned at a small commercial print shop where I created printed pieces from the initial concept all the way through the bindery. This experience was invaluable to me as a graphic designer.
I have seen the industry change dramatically through the years, but the classic foundation of my training and my experience in every aspect of graphic design has served me well. I am now well versed in many of the incredible programs from Photoshop to Dreamweaver, tools for design that become more amazing everyday.
To contact Zetta Design: zettadesign@earthlink.net